Silent March
"Silent March" uses shoes belong­ing to peo­ple with HIV and AIDS, pro­mot­ing non-dis­crim­i­nat­ing AIDS aware­ness. I place myself in the instal­la­tion wear­ing a T-shirt say­ing "Silent March for HIV Pre­ven­tion" and a sign stat­ing, "AIDS makes no choices, You Do". This project came at a time when I felt peo­ple needed to under­stand the dev­as­tat­ing affect of AIDS through an iden­ti­fi­able medium. The project included pub­lic instal­la­tions, a video, and ser­vice announce­ment.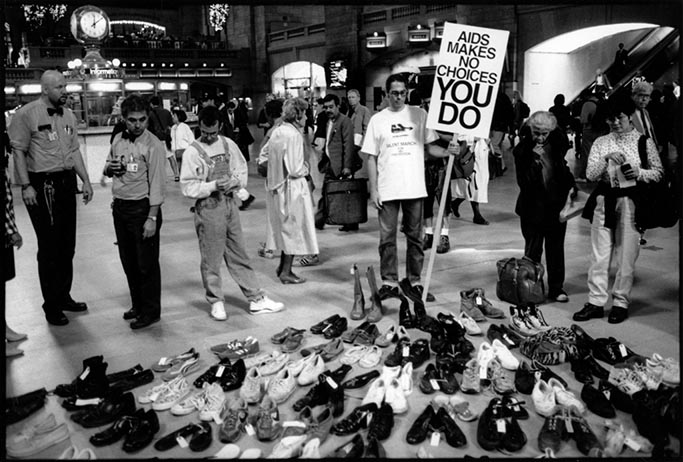 Grand Cen­tral Ter­mi­nal - New York City - 1995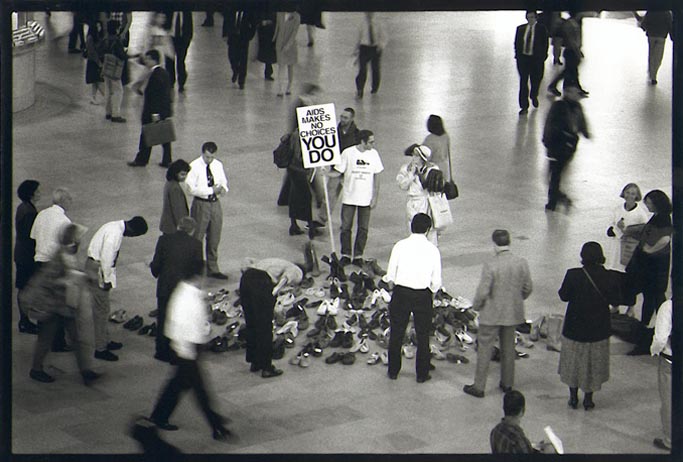 Photo: Dou­glas Levere
The cen­tral com­po­nent of this project con­tains shoes col­lected from indi­vid­u­als liv­ing with HIV and AIDS-related com­plex, as well as those who already have lost their life to the dis­ease. The strength behind this instal­la­tion is in its void. There are no phys­i­cal beings present in this march. There are no voices chant­ing for recog­ni­tion. There are just the souls of indi­vid­u­als in silence. This project reaches out to every com­mu­nity by pro­vid­ing an oppor­tu­nity to under­stand the ram­i­fi­ca­tions and rel­e­vance of AIDS through impact­ful visual pre­sen­ta­tions. "Silent March" inte­grates HIV pre­ven­tion, art, edu­ca­tion out­reach & vol­un­teer recruit­ment.
I removed the phys­i­cal being to clearly show the uni­ver­sal impact of AIDS through a com­mon image - shoes. Up until now, denial that AIDS affects all seg­ments of soci­ety has been a for­mi­da­ble bar­rier to address­ing rel­e­vant issues of AIDS. This instal­la­tion elim­i­nates that bar­rier by form­ing a new rela­tion­ship between the viewer and the dis­ease by tak­ing a famil­iar object - shoes - to rep­re­sent an unfa­mil­iar (or uncom­fort­able) image - AIDS - to ini­ti­ate under­stand­ing. With the phys­i­cal being gone, in this visual pre­sen­ta­tion, the viewer can no longer dis­tance him­self or her­self by the "other" peo­ple syn­drome. With­out that com­fort zone they are faced with truth.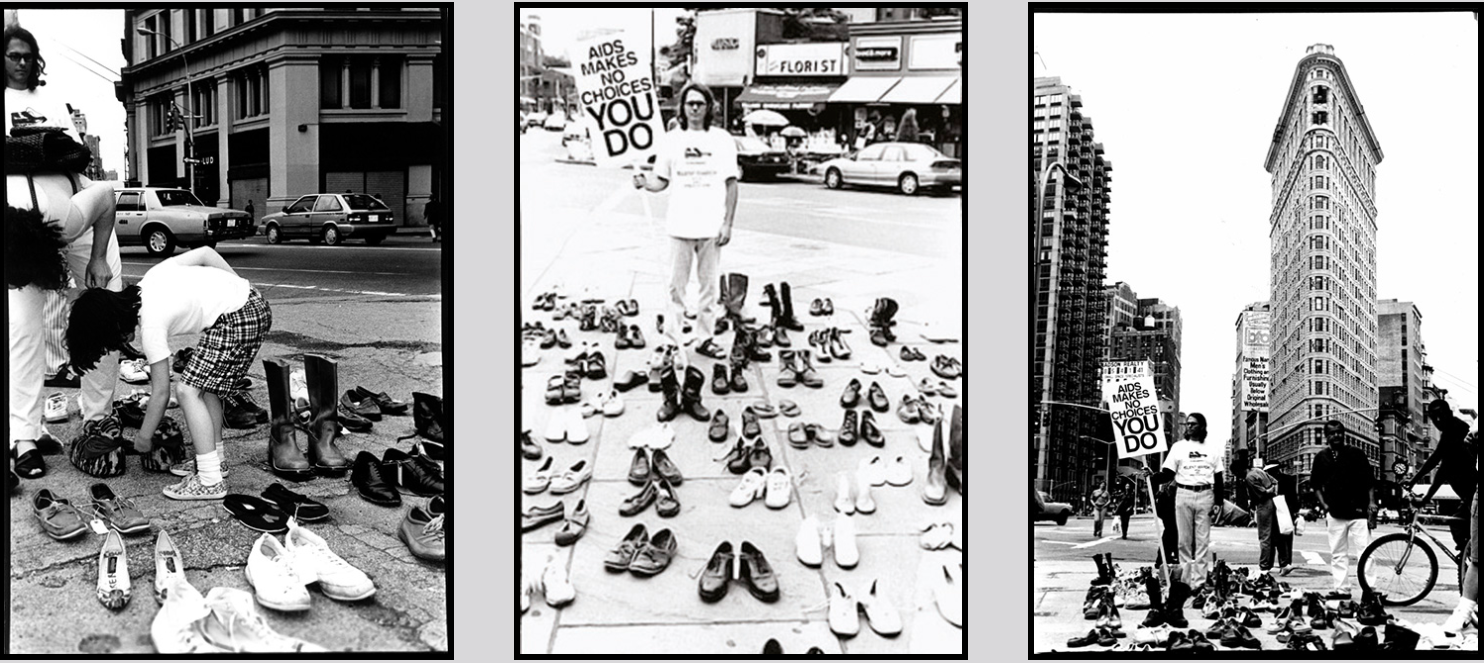 The shoes con­tained in a "Silent March" instal­la­tion are iden­ti­fi­able to the viewer, like those on their feet or at home in a closet. It is through this sim­i­lar­ity that the viewer is pulled into the bound­aries of the instal­la­tion. In other words, putting them­selves in the shoes that lie before them. By cross­ing the bar­rier that has sep­a­rated them from under­stand­ing, view­ers can begin to com­pre­hend the fact that AIDS has no agenda or mercy.
"Silent March" is designed to awaken soci­ety by prompt­ing a response to the human lives con­sumed by HIV and AIDS. It is easy to recall imagery of dev­as­ta­tion rep­re­sented by the over­whelm­ing piles of per­sonal objects of Holo­caust vic­tims. This type of imagery is a clear, con­stant reminder of a soci­ety that allowed indif­fer­ence and dif­fer­ence as a means to tol­er­ate mas­sacre.
"Silent March" was designed as a multi seg­mented project to assist in pre­vent­ing the spread of HIV. I ded­i­cated many years try­ing to get sites to show this project and its seg­ments. The resis­tance I met while try­ing to reach my project goals was dis­heart­en­ing.
It is my ongo­ing desire to cre­ate a memo­r­ial piece using the shoes that I col­lected to honor the lives con­sumed by the AIDS pan­demic.


Silent March Pub­lic Ser­vice Announce­ment : run­ning time 0:33
Silent March Grand Cen­tral Ter­mi­nal - New York City 1995 : run­ning time 3:44