T-Shirt Tirade
In 1999 I wanted to help human­ize gay rights through "T-shirt Tirade" while chal­leng­ing the form in which peo­ple demon­strate. I wanted to illus­trate the human side of the issue by show­ing nor­mal peo­ple doing nor­mal daily activ­i­ties.
I placed ads in mag­a­zines and in 2005 I went around the coun­try giv­ing out T-shirts sport­ing the project slo­gan "I am a Human Being, Not a Sex­u­al­ity, EQUAL RIGHTS." I also stood in pub­lic space or went about rou­tine activ­i­ties sup­port­ing pos­i­tive change.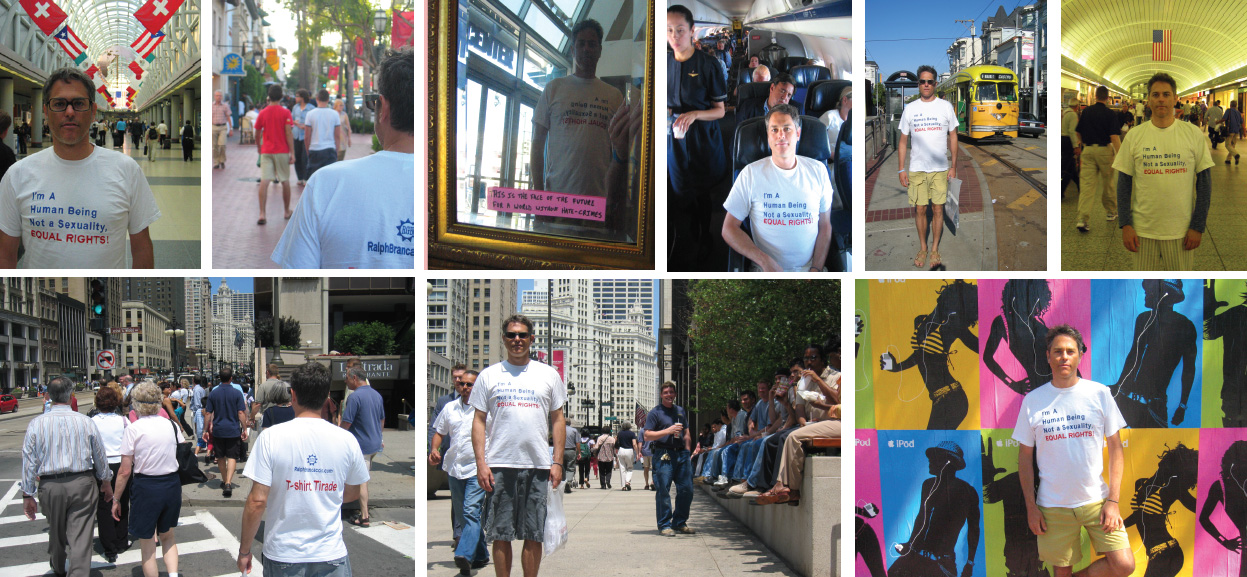 Peo­ple get labeled or grouped because of their dif­fer­ences, which excludes them from oth­ers. This can take away their human iden­tity since they are no longer con­sid­ered as equal. Then some­how, some­where, some­one decides that "those" peo­ple are in some way less human."
"T-shirt Tirade" is not what is seems. It is not merely a T-shirt, but a liv­ing art installation/ demon­stra­tion that pro­motes equal rights for the LGBTQ com­mu­nity; rights equal to those enjoyed by most cit­i­zens of this coun­try, not "spe­cial rights."
Bran­cac­cio, who cre­ated the con­cept, is ask­ing you to wear this T-shirt, hop­ing that worn by you, or some­one you know, this will help break down bar­ri­ers to equal rights for LGBTQ cit­i­zens and nor­mal­ize the still stig­ma­tized and highly charged issue.
The LGBTQ com­mu­nity is a part of everybody's world: a part of our fam­ily or friend­ship cir­cle, the work­place, enter­tain­ment, news media, sports arena, gov­ern­ment, school, church, etc. This liv­ing instal­la­tion acknowl­edges les­bians, bisex­u­als, gays and peo­ple of trans­gen­der in our every­day envi­ron­ment and reveals their ordi­nar­i­ness. Wear­ing "T-shirt Tirade" will mean that you are tak­ing a stand and advo­cate equal rights for the LGBTQ com­mu­nity and the nor­mal, unadul­ter­ated dig­nity of all our country's cit­i­zens. Wear this T-shirt, not to pro­claim sex­u­al­ity but to help tear down the bar­ri­ers that deny human beings an equal and ordi­nary place at society's table.